August 1, 2016 by BettyRocker
Tangled Thai Salad for Glowing Skin (Health Summer Salad Recipe 1 of 3)
Source: Tangled Thai Salad for Glowing Skin (Health Summer Salad Recipe 1 of 3)
We all love glowing skin!
The key here is regularly consuming foods that support the proper elimination on toxins (i.e. foods that support the liver and kidneys), along with super-hydrating foods to wash the toxins out and keep the skin supple.
My Tangled Thai Salad is the perfect remedy.
Beets, parsley, and cilantro provide amazing support to the liver while the water-filled cucumber and green apple supply an abundance of hydration.
Check out the Healthy Salad-Making Guide for more tips on making healthy salads for all occasions!
Tangled Thai Salad for Glowing Skin
Tangled Thai Salad for Glowing Skin
by Julie Magnussen, Nutritional Chef and certified Health Coach
Ingredients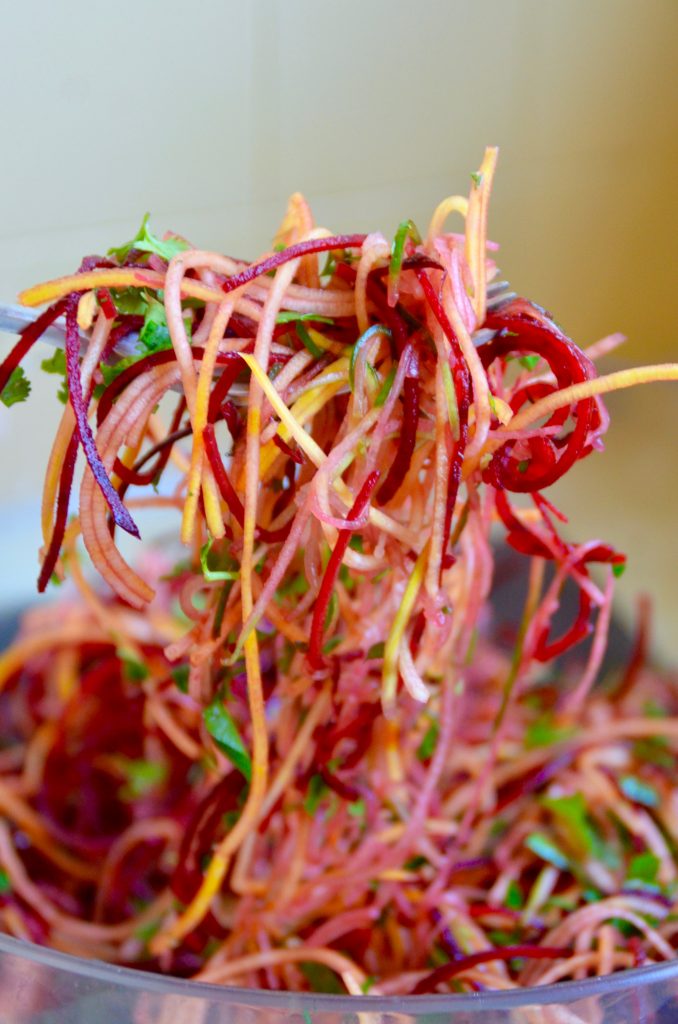 Salad
1 yellow beet, peeled
1 red beet, peeled
1 english cucumber, cut in half
1 green apple, top cut off
1/4 cup chopped cilantro
1/4 cup chopped parsley
Dressing
1/4 cup chopped cilantro
1/4 cup avocado oil
1/4 cup water
3 garlic cloves
2 dates
2 T almond butter
2 T fresh lime juice
1 T tamari
1 T rice vinegar
1 T peeled and chopped fresh ginger
1 T coconut milk
2 tsp sriracha
1 tsp sesame oil
Directions
Make the dressing by adding all the ingredients to a high speed blender.
Blend for 30 seconds or until completely creamy and blended. Set aside.
Prepare the salad using your spiralizer. Place a whole beet in the spiralizer and spiral the whole thing. Repeat with the second beet, the cucumber, and the green apple.
Place spiralized ingredients in a large mixing bowl and cut the noodles in large chunks with a pair of scissors.
Add the cilantro and parsley.
Drizzle with Thai dressing when ready to eat.
Leave me a comment below if you have any questions or comments, and post your pictures on social media so I can see them!

The post Tangled Thai Salad for Glowing Skin (Health Summer Salad Recipe 1 of 3) appeared first on Betty Rocker.